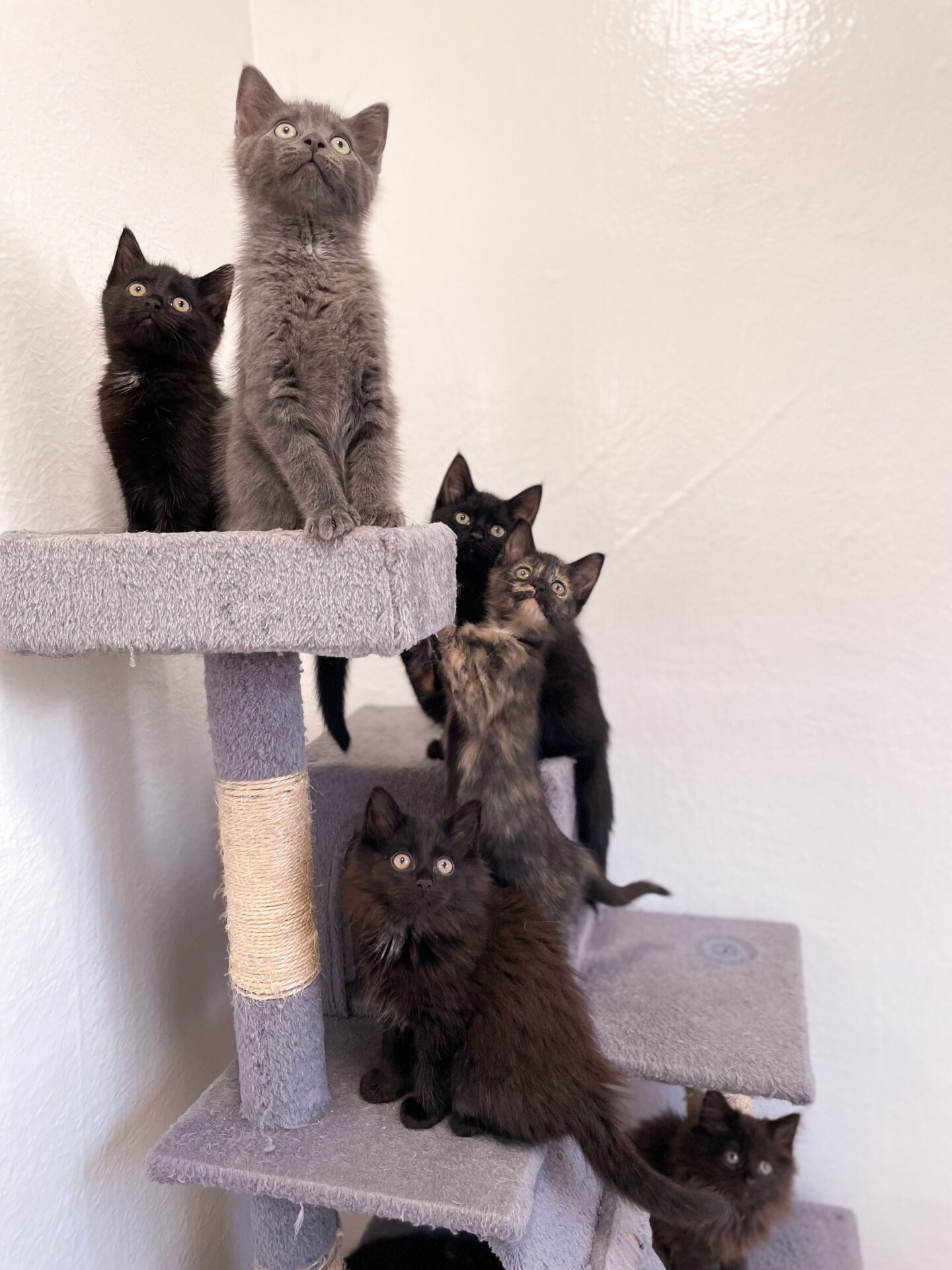 Our Mother & Baby Unit (MBU) houses some of our most vulnerable and in need of care a at The Cat & Rabbit Rescue Centre; kittens and their mothers. Get to know what goes on in our MBU, what improvements we'll be making with your help to the MBU to help kittens and mothers in need.
What is Our MBU?
Our Mother & Baby Unit (MBU) is a designated building here at The Cat & Rabbit Rescue Centre to care for kittens, family groups of kittens and their mothers, and pregnant cats that have been found as strays, have been taken in from poor conditions, or have been brought into the centre as unwanted pets. For kittens and mothers, the MBU is the first area of The Cat & Rabbit Rescue Centre they'll become familiar with and fond of until they're old enough to join other adult cats in our Viv Eadon Lodge building, however most are adopted before making the move.
The MBU is comprised of 6 cosy birthing pens and 8 comfortable and sizeable rooms, with each room able to accommodate several kittens and their mother, which ensures even the largest new feline families can be cared for here at the centre together. The 6 birthing pens are designed to provide a smaller, secure, and more comforting space to mothers welcoming their kittens into the world. Mothers and their kittens will stay in these birthing pens for a couple of weeks, where kittens will be able to explore in the company and safety of their mother and littermates, in which many milestones will be reached including opening their eyes for the first time, before being able to explore larger and toy-filled surroundings in one of MBU's rooms.
Keeping cat families together is important for kitten health and body development as the colostrum (antibody and growth hormone-rich fluid produced from the mother's mammary glands during the first few days after birth) and nutrients in the mother's milk are responsible for strong bone development, organ development and eye health, meaning if a kitten is removed from its mother too soon, they may require nutritional supplementation and veterinary care.
In addition to avoiding these health concerns, keeping these families together helps to steer clear of behavioral issues that may arise from early separation of a kitten from its mother and littermates. When kept together for a suitable duration of time from birth (approximately 12 weeks), kittens benefit from the lifelong lessons their mothers teach them, including how to groom, how to bury their waste in a litter tray, and making sure they don't play too rough in addition to important features of socialization they derive from living and communicating with littermates, which limits the likelihood a kitten may grow up to be a fearful, skittish or aggressive cat.
Very occasionally, some mothers recently brought into the MBU are unable to produce milk for their kittens or are unwilling to nurse. This is often due to health issues such as malnutrition from her previous environment, infection such as mastitis, or stress. In these circumstances, in addition to undertaking regular health checks on mum, we ensure kittens are given the best possible chance at the beginning of their life by keeping them with their mother and other littermates for company and to learn positive cat behaviours through socialisation in addition to hand-feeding them around the clock, every hour!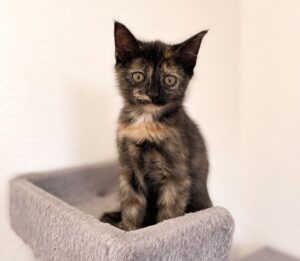 Although not ideal, kittens do enter The Cat & Rabbit Rescue Centre alone or with littermates but without their mother. This may be due to several reasons such as kittens found as strays abandoned by their mother or that they were purchased too early in their life from a private seller by an individual that can no longer take care of them. As the MBU provides a separate and designated space for such kittens, our Animal Care Team can closely monitor and provide more specialized care for them here. Young kittens without a mother may require some extra TLC due to being separated from their mother and her nutritional milk, being born with a condition that requires veterinary intervention, or have developed an illness before coming into the centre. Our Animal Care Team can easily administer medication or nutritional supplements and monitor their health improvement in the MBU.
Who's in Our MBU?
Although many members of our Animal Care Team happily help to care of kittens and mothers in the MBU, Senior Animal Care Officer Aisha is dedicated to making sure furry friends in this unit thrive and the MBU has become the main building she resides over. Aisha works tirelessly to ensure the kittens and mothers cared for at the MBU are given lots of nutritious food, medication they require, a cosy and clean pen, and lots of love and attention which also helps them socialize and increase their confidence with people. Aisha also goes above and beyond her role, where she has previously needed to bring very young kittens home for the evening to care and feed by bottle around the clock, every hour! If you've adopted a kitten from The Cat & Rabbit Rescue Centre, chances are you were warmly welcomed and given all the information you could ever need about your new furry family member by Aisha.
What's Happening Soon in Our MBU?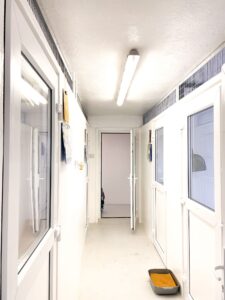 Here at The Cat & Rabbit Rescue Centre, we take precautions necessary to avoid the risk of outside illness or other influences affecting the health and happiness of the wonderful animals we care for. This means that we're always thinking of ways we can improve our facilities to ensure we provide the utmost care for our furry friends requiring some extra TLC whilst waiting for their forever homes with us. We've decided to make some changes to our MBU which we foresee will decrease the recovery time of kittens and mothers that come into the centre unwell, decrease the risk of spread of airborne disease, and ultimately decrease the time these deserving kittens and mothers must wait for their forever homes!
During the month of March and in time for Mother's Day, we'll be fundraising for important improvements to our Mother & Baby Unit (MBU) at The Cat & Rabbit Rescue Centre. After getting to know what goes on in our MBU and what we've got planned, we'd love if you could get involved in MBU March and help us to raise vital funds to help to continue to give rescue kittens and their mothers a chance at a healthy and happy life.
To donate to MBU March please click here